Description
Mini Map
Connected Locations
Exploration
Exploration Goals
Enjoy the scenery of Twilight Moon Castle through binoculars (0/1)
Open the hidden

golden treasure chest

under the lake (0/1)
Speak with Yena in Twilight Moon Castle (0/1)
Golden Chests
There are 3 Golden Chests in Twilight Moon Castle.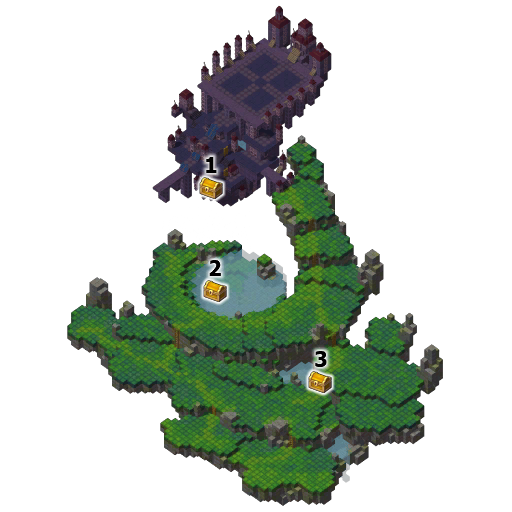 Golden Chest 1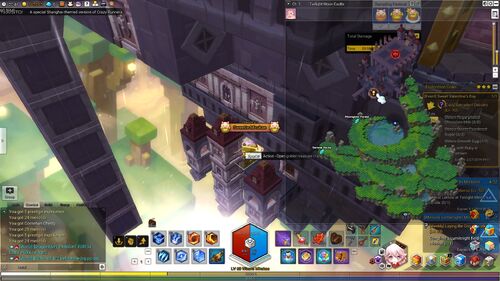 Golden Chest 3
This chest requires navigating through a hidden underground tunnel. See the second image below for the location of the entrance to the tunnel, which is at the back of the southernmost pool of water. From this entrance, walk northeast until you can't go any farther, then jump. Once you've landed successfully on the next level, walk northwest until you reach this chest. It can be seen if you position yourself towards the left side of the second pool, so you can check that its still there before getting yourself trapped inside the tunnel. This is the chest required to complete the area's Exploration Goals.
Normal Chests
NPCs
| Icon | Name | Level |
| --- | --- | --- |
| Icon | Name | Level |
| | Yena (NPC) | 30 |
Enemies
Thrown Items
Thrown items are interactable environment objects which can be picked up and used to attack with. These items are often used in Daily Missions, Exploration Goals and Trophies.
Life Skills
Fishing
Mining
This location has no mining veins.
Foraging
This location has no foraging herbs.
Pet Taming
This area has no pet spawns.
Quests
Trophies
Gallery