Jurassic World: Dominion Dominates Fandom Wikis - The Loop
Play Sound
Description
Mini Map
Connected Locations
Exploration
Exploration Goals
Catch a fish (0/10)
Speak with Monshel in Serene Docks (0/1)
Open the hidden

golden treasure chest

at the top of the tallest tree (0/1)
Golden Chests
There are 4 Golden Chests in Serene Docks.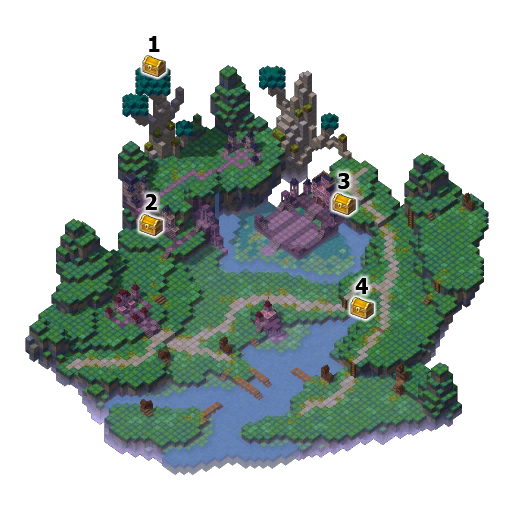 Golden Chest 1
Fly to the very top of the tree in the northwest part of the map, just behind Ghanush. This is the chest required to complete the area's Exploration Goals.
Golden Chest 2
Check in the castle walls in the northwest part of the map, below Ghanush.
Golden Chest 3
In the wall alcove between a tower and the manor closest to the Twilight Moon Castle portal.
Normal Chests
NPCs
Enemies
Thrown Items
Thrown items are interactable environment objects which can be picked up and used to attack with. These items are often used in Daily Missions, Exploration Goals and Trophies.
Life Skills
Fishing
Mining
This location has no mining veins.
Foraging
This location has no foraging herbs.
Pet Taming
This area has no pet spawns.
Quests
While on his daily stroll, Monshel encountered a wich named Ghanush. After a little wager, she won the shirt off his back -- literally.
Help the naked nobleman by defeating Ghanush in the most dangerous game: rock-paper-scissors.
Summary
Challenge Ghanush at Serene Docks and retrieve Monshel's Regalia (0/1)
Deliver Monshel's Regalia to Monshel at Serene Docks
Rewards
(This quest is unlocked after completing [38] Witch's Wager) Ghanush has grown bored of winning. She's ready to restore the people of Serene Docks, but first you'll have to get their souls back.
By fighting monsters, of course.
Summary
Defeat enemies in Serene Docks for Subjects' Souls (0/10)
Deliver Subjects' Souls to Ghanush in Serene Docks
Rewards
Trophies
Gallery