Victoria Island

Beachway 111

Details
Island
Victoria Island
Region
Kerning City
Area Level
14
PVP?
No
Has Taxi?
No
Has Item Extractor?
No
Has Healing Spot?
Yes
Has Real Estate?
No
BGM
Unknown
Dungeons
Dungeons
None
Description
Mini Map
Connected Locations
Main Areas
Sub Areas
Exploration
Exploration Goals
Swim for 300 meters in the ocean (0/300)
Catch fish in the ocean (0/10)
Open a hidden golden treasure chest under the ocean (0/1)
Golden Chests
There are 2 Golden Chests within Beachway 111.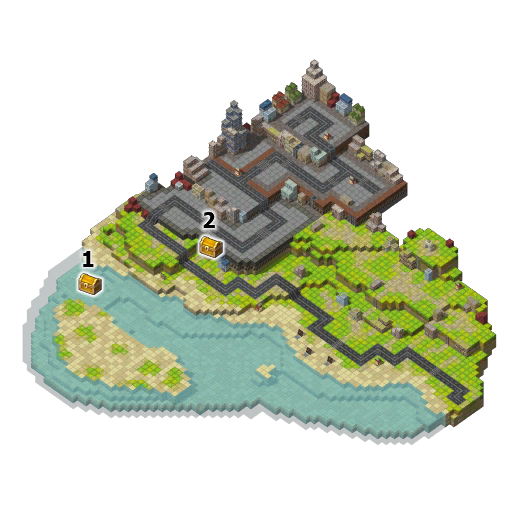 Normal Chests
NPCs
Enemies
Thrown Items
Thrown items are interactable environment objects which can be picked up and used to attack with. These items are often used in Daily Missions, Exploration Goals and Trophies.
Life Skills
Fishing
Mining
This location has no mining veins.
Foraging
This location has no foraging herbs.
Pet Taming
Quests
Stan in Beachway 111 is really excited about cooking a tasty seafood meal. But, he needs lots of crab to do it. Why not help him lure Stone Crabbys into the traps at the beach?
Summary
Lure Stone Crabbies to the open traps and get Captured Stone Crabbies (0/3)
Talk to Fisherman Stan
Rewards
The economy is the area has been totally disrupted by Fisherman Stan's new venture. Sabotage may not be very nice, but that Moma is definitely someone you don't want to cross. Use tubes to black Fisherman Stan's Stone Crabby traps in Beachway 111 before she gets mad at you.
Summary
Use tubes to block Stone Crabby traps on the beach (0/3)
Talk to Moma
Rewards
A Giant Turtle is wreaking havoc on the beaches of Beachway 111, and Benielle's business is struggling to stay afloat.
Dispatch the Giant Turtle at Beachway 111! Be warned, it's best to bring friends when facing a foe this fierce!
Summary
(Boss) Defeat Giant Turtle in Beachway 111 (0/1)
Talk to Benielle
Rewards
Trophies
Gallery